Startups
Explore the Startups CRG has helped to establish
If it is decided that starting a company is the best option to exploit a CRG innovation, the TBDO will guide you throughout the whole process, from analyzing the opportunity to incorporating the business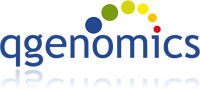 qGenomics was the first spin-off company of the CRG. Born with the objective of translating the last advances in genomics research into diagnostic products for the benefit of society, qGenomics first product was a DNA microarray chip for the detection of chromosomal abnormalities at the origin of a number of pathologies. In particular, the application of that chip in prenatal diagnosis provides higher speed, throughput and resolution than traditional karyotyping methods for detecting genomic variation, such as FISH or g-banding. Its main goal is to offer high added value products and services to geneticists and clinicians, patients and theirfamilies. Services that are structured around the interpretation, in a clinical context, of genomic data obtained from the study of DNA or RNA analysis with the most modern technologies." qGenomics arised as a joint initiative of the CRG and the Pompeu Fabra University, with the additional support of Genoma España, the "Foundation for the development of genomics and proteomics research" in Spain.

Microomics is a biotech spin-off of the CRG and the Catalan Institute for Research and Advanced Studies (ICREA) specialized in microbiome analysis, being the first biotech in the national territory that focuses on metagenomics solutions. Our business strengths rely on high technical expertise and top-notch research facilities, combined with attractive strategic partnerships and academic collaborations. Our mission is to bring advanced scientific expertise to provide practical solutions to the customer and the society as an alternative and innovative approach to new and traditional questions in Biomedicine, Health-Care, Energy, Agrifood, including animal and plant breeding, Consumer Goods Industry and Environmental sectors. We transform metagenomics data into knowledge contributing to society through sustainable growth and improved health and wellbeing.
More info
For more information about how CRG supports and deals with Spin-Off creation please check our Startup Ventures section.