Speaker Series
The speaker series attracts top-tier participants to our research community to share their experiences and discuss relevant topics of interest to entrepreneurs. These speakers are chosen from a broad range of expertise. To date our program has invited private investors, company CEOs, professionals from the pharma and biotech sector and seasoned entrepreneurs. Informal receptions are organized after talks to encourage networking within our community.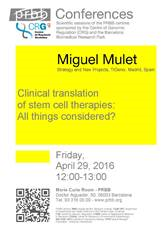 22 April 2016
Cell therapy in regenerative medicine from an industrial focus
On initiative of the TBDO, Dr. Miguel Mulet will provide an overview of cell therapy in regenerative medicine from an industrial focus and how this field illustrates particularly well, the challenges and risks of the trip from science to product during PRBB-CRG Session of Friday April 29th 2016 from 12:00-13:00. In this overview, he will touch various aspects:
Cell therapy as a pharmaceutical product.
How Mechanism of Action has been a moving target in parallel with product development.
The intellectual property challenge of protecting inventions involving cells.
Adapting biologics regulation to cell therapy.
The long path of clinical development.
Moving from a laboratory craft to industrial manufacturing.
Commercialization and Market Access.
Miguel Mulet is Director of Strategy and New Projects in TiGenix, which is a leading European cell therapy company. His primary role at TiGenix is focused on aligning the functions that drive the cell therapy pipeline in Crohn's Disease and Acute Myocardial Infarct. In addition, and besides business development activities to broaden the current pipeline, he is in charge of advancing the market readiness of the current platforms through implementation of new technologies and process improvement initiatives.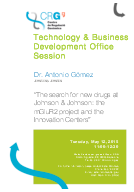 12 May 2015
12/05/201511:00MARIE CURIETBDO SessionsDr. Antonio GómezJohnson & Johnson"The search for new drugs at Johnson & Johnson: the mGluR2 project and the Innovation Centers"Abstract:Dr Antonio Gomez earned a PhD from the University of Salamanca in the field of Hemisynthesis of Natural Products in 1997. Joined Janssen-Cilag S.A. in Toledo in 1996, initially as a medicinal chemist. Then moved to Janssen Pharmaceutica in Belgium in 1999-2000 to work in the Department of Research Support. Back in Toledo he has held various positions as Project coordinator and scientific IP coordinator. Since 2012 he is in charge of external collaborations for the Toledo site. With the launch of the Innovation Center...
---