Speaker Series
The speaker series attracts top-tier participants to our research community to share their experiences and discuss relevant topics of interest to entrepreneurs. These speakers are chosen from a broad range of expertise. To date our program has invited private investors, company CEOs, professionals from the pharma and biotech sector and seasoned entrepreneurs. Informal receptions are organized after talks to encourage networking within our community.
14 September 2022
14/09/202212:00473.10TBDO SessionsMalcolm BainAcross LegalLicensing research software: options and challenges.Host: Sanz Molinero, Ana IsabelAbstract:Malcolm is an English solicitor and Spanish abogado. He has worked as an Information Technology and Intellectual Property lawyer over the last 20 years, with a specialisation in technology licensing, open source software and content, technology transfer and privacy.
In 2006, together with his partner Manuel Martínez, he founded his own firm "id-law partners" as a boutique specialized in IP and ICT. In May 2018, both incorporated this firm into Across Legal. In addition to his professional activity advising entrepreneurs, private companies, public administrations and open source projects, Malcolm is a member of the Free Software Foundation Europe and ASTP, associate professor of law at the University of Barcelona, ¿¿mentor in Tecniospring Industry and other programs for entrepreneurs and frequent speaker at conferences and seminars in the field of ICTs and entrepreneurship in the digital world.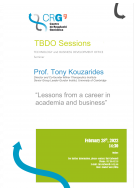 28 February 2022
28/02/202214:30OnlineTBDO SessionsTony KouzaridesSenior Group Leader, Gurdon Institute and Director/Co-founder of the Milner Therapeutics Institute"Lessons from a career in academia and business"Host: Sanz Molinero, Ana IsabelAbstract:Short Bio
Tony Kouzarides is professor of Cancer Biology at the University of Cambridge. He is a Senior Group Leader at the Gurdon Institute and director/co-founder of the Milner Therapeutics Institute. Tony did his PhD at the University of Cambridge and postdoctoral work at MRC Laboratory of Molecular Biology and at New York University Medical Center. His research group at the Gurdon Institute is focused on epigenetic modifications and their involvement in cancer. Tony is co-founder of Abcam plc, a research reagents supplier, based on the Cambridge Biomedical Campus, STORM Therapeutics, a drug discovery company based in on the Cambridge Babraham Campus, and Chroma Therapeutics, based in Oxford. He is the founder and director of Cambridge Gravity, an organization that supports Cambridge Science and the founder of a cancer charity in Spain (Vencer el Cancer). Tony is a Fellow of the Royal Society (FRS), a Fellow of the British Academy of Medical Sciences (FMedSci), a fellow of the American Academy of Arts and sciences (AAAS), a fellow of the Cyprus Academy of Science and a member of the European Molecular Biology organization. He has been awarded the Wellcome Trust Award for Research in Biochemistry Related to Medicine, the Tenovus Medal, the Bodossaki Foundation prize in Biology, the Bijvoet Medal, the Biochemical Society Award, the Novartis Medal and Prize, the Heinrich Wieland Prize, the Nemitsas Prize and the Cyprus Science Excellence award. Watch the seminar recording here: https://youtu.be/ehrfJBRYjyg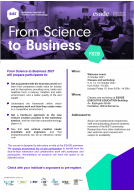 21 July 2021
From Science to Business (FS2B) is a course sponsored by the TBDO (Technology & Business Development Office) and directed to  CRG scientist wishing to strengthen their network with the local innovation ecosystem. The course is offered through the Barcelona Institute of Science and Technology (BIST) in collaboration with the ESADE Business School and it aims at developing entrepreneurship and innovation skills among the members of the BIST community.
The course will prepare participants to:
To get acquainted with the business world, and to show how companies create value for society and for themselves: providing more, better and healthier food, a cleaner and safer environment, a higher quality of life, etc.
To provide a framework to understand how companies work and how they create value in a competitive environment.
To help understand the new venture creation process, and the role that science/technology plays in it.
To show that new venture creation needs scientists and engineers, and that entrepreneurship can be an attractive career path for them.
Target audience: This programme is aimed at researchers, senior researchers, postdoctoral fellows and doctoral students at BIST centers (From the CRG max 4 candidates will be selected). The course is designed for groups of approximately 30-35 people to ensure optimal participation, learning and faculty-to-participant ratio.
Dates: 4th (from 15:30-17:30), 5, 6, 14 (from 9:00-18:30) and 15th October 2021 (from 9:00-14:00)
Programme: HERE
Location: ESADE Executive Education building, Av. Esplugues 92-96, Pedralbes, Barcelona. Nevertheless all sessions will have the option to be followed online.
Register HERE by 1st of September 2021
Registration fee (for selected participants): The course is free, however 50€ of deposit is mandatory and will be reimbursed upon completion of the course.
For more information contact: CRG_BusinessInnovation@crg.eu and training@crg.eu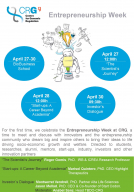 20 April 2021
For the first time, we celebrate the Entrepreneurship Week at CRG, a time to meet and discuss with innovators and the entrepreneurship community who dream big and inspire others to bring their ideas to life driving socio-economic growth and welfare. Directed to students, researchers, alumni, mentors, start-ups, industry, investors and other innovation partners, please find below activities scheduled during next week:
April 27-30
CRG BioBusiness School
Registration closed (selected candidates)
April 27 12:00h-13:00h
"The Scientist's Journey" 
Roger Gomis, PhD | IRB & ICREA Research Professor
April 28 12:00h-13:00h
"Start-ups: A Career Beyond Academia" 
Marisol Quintero, PhD | CEO Highlight Therapeutics
April 30 09:30h-10:30h Live Stream on Youtube
Investor's Dialogue
Montserrat Vendrell, PhD | Partner Alta Life Science
Jason Mellad, PhD | CEO & Co-founder of Start Codon.
Moderator: Anabel Sanz | Head TBDO-CRG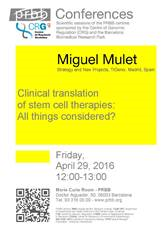 22 April 2016
Cell therapy in regenerative medicine from an industrial focus
On initiative of the TBDO, Dr. Miguel Mulet will provide an overview of cell therapy in regenerative medicine from an industrial focus and how this field illustrates particularly well, the challenges and risks of the trip from science to product during PRBB-CRG Session of Friday April 29th 2016 from 12:00-13:00. In this overview, he will touch various aspects:
Cell therapy as a pharmaceutical product.
How Mechanism of Action has been a moving target in parallel with product development.
The intellectual property challenge of protecting inventions involving cells.
Adapting biologics regulation to cell therapy.
The long path of clinical development.
Moving from a laboratory craft to industrial manufacturing.
Commercialization and Market Access.
Miguel Mulet is Director of Strategy and New Projects in TiGenix, which is a leading European cell therapy company. His primary role at TiGenix is focused on aligning the functions that drive the cell therapy pipeline in Crohn's Disease and Acute Myocardial Infarct. In addition, and besides business development activities to broaden the current pipeline, he is in charge of advancing the market readiness of the current platforms through implementation of new technologies and process improvement initiatives.
---