The Technology & Business Development Process at CRG
Learn more about the Technology Transfer Process at CRG through our FAQs
Latest news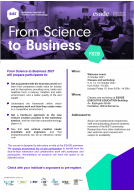 21 July 2021
From Science to Business (FS2B) is a course sponsored by the TBDO (Technology & Business Development Office) and directed to  CRG scientist wishing to strengthen their network with the local innovation ecosystem. The course is offered through the Barcelona Institute of Science and Technology (BIST) in collaboration with the ESADE Business School and it aims at developing entrepreneurship and innovation skills among the members of the BIST community.
The course will prepare participants to:
To get acquainted with the business world, and to show how companies create value for society and for themselves: providing more, better and healthier food, a cleaner and safer environment, a higher quality of life, etc.
...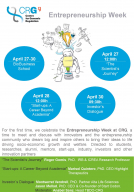 20 April 2021
For the first time, we celebrate the Entrepreneurship Week at CRG, a time to meet and discuss with innovators and the entrepreneurship community who dream big and inspire others to bring their ideas to life driving socio-economic growth and welfare. Directed to students, researchers, alumni, mentors, start-ups, industry, investors and other innovation partners, please find below activities scheduled during next week:
April 27-30
CRG BioBusiness School
Registration closed (selected candidates)
April 27 12:00h-13:00h
"The Scientist's Journey" 
...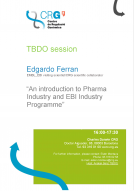 20 June 2019
a href=https://www.crg.eu/en/event/tbdo-sessions-edgardo-ferranTBDO Sessions Edgardo Ferran/a
pspan class=body_120/06/2019/spanspan class=body_216:00/spanspan class=body_3CHARLES DARWIN/spanspan class=body_4TBDO Sessions/spanspan class=body_5Edgardo Ferran/spanspan class=body_6EMBL_EBI visiting scientist/CRG scientific collaborator/spanspan class=body_7An introduction to Pharma Industry and EBI Industry Programme/spanspan class=body_8Host: Montava Guill, Ester/spanspan class=body_9Abstract:/spanWhy do we need pharma industry? What is the current business model of the big pharma? How drug discovery and development is done in these companies? How many new medicines are approved each year by the regulatory agencies? How the companies communicate their financial and clinical results? What a pharma clinical pipeline looks like? Which strategies do they follow under the risk of a patent cliff? Why pharma companies merge or buy a concurrent company? Which are the scientific subjects that currently interest the big pharma? How.../p
---