The Technology & Business Development Process at CRG
Learn more about the Technology Transfer Process at CRG through our FAQs
Latest news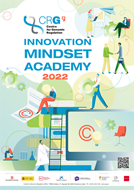 16 June 2022
INNOVATION MINDSET ACADEMY (IMA) 2022
The 1st edition of the Innovation Mindset Academy (IMA), a new training initiative put together by TBDO, CRG ISA and Training, took place in March 2022 within the framework of the European Training Network Chromdesign, coordinated by CRG's Group Leader Luciano Di Croce.
The IMA scheme was ideated to be highly interactive and activity-based to take PhD students through an entrepreneurial immersion experience while instilling an entrepreneurial mindset, helping students to develop their skills to convert lab-ideas into business ones.
IMA participants worked on their own business ideas for a week while engaging in discussions with entrepreneurs and scientists in business. The topics covered were intellectual property protection and disclosure, value creation, and demanded skill sets from researchers in a business environment.
The IMA 2022 stands as the optimal prelude of the next CRG BioBussines School Edition, to take place in 2023.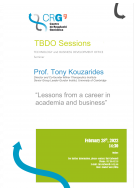 28 February 2022
28/02/202214:30OnlineTBDO SessionsTony KouzaridesSenior Group Leader, Gurdon Institute and Director/Co-founder of the Milner Therapeutics Institute"Lessons from a career in academia and business"Host: Sanz Molinero, Ana IsabelAbstract:Short Bio
Tony Kouzarides is professor of Cancer Biology at the University of Cambridge. He is a Senior Group Leader at the Gurdon Institute and director/co-founder of the Milner Therapeutics Institute. Tony did his PhD at the University of Cambridge and postdoctoral work at MRC Laboratory of Molecular Biology and at New York University Medical Center. His research group at the Gurdon Institute is focused on epigenetic modifications and their involvement in cancer. Tony is co-founder of Abcam plc, a research reagents supplier, based on the Cambridge Biomedical Campus, STORM Therapeutics, a drug discovery company based in on the Cambridge Babraham Campus, and Chroma Therapeutics, based in Oxford. He is the founder and director of Cambridge Gravity, an organization that supports Cambridge Science and the founder of a cancer charity in Spain (Vencer el Cancer). Tony is a Fellow of the Royal Society (FRS), a Fellow of the British Academy of Medical Sciences (FMedSci), a fellow of the American Academy of Arts and sciences (AAAS), a fellow of the Cyprus Academy of Science and a member of the European Molecular Biology organization. He has been awarded the Wellcome Trust Award for Research in Biochemistry Related to Medicine, the Tenovus Medal, the Bodossaki Foundation prize in Biology, the Bijvoet Medal, the Biochemical Society Award, the Novartis Medal and Prize, the Heinrich Wieland Prize, the Nemitsas Prize and the Cyprus Science Excellence award. Watch the seminar recording here: https://youtu.be/ehrfJBRYjyg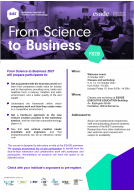 21 July 2021
From Science to Business (FS2B) is a course sponsored by the TBDO (Technology & Business Development Office) and directed to  CRG scientist wishing to strengthen their network with the local innovation ecosystem. The course is offered through the Barcelona Institute of Science and Technology (BIST) in collaboration with the ESADE Business School and it aims at developing entrepreneurship and innovation skills among the members of the BIST community.
The course will prepare participants to:
To get acquainted with the business world, and to show how companies create value for society and for themselves: providing more, better and healthier food, a cleaner and safer environment, a higher quality of life, etc.
To provide a framework to understand how companies work and how they create value in a competitive environment.
To help understand the new venture creation process, and the role that science/technology plays in it.
To show that new venture creation needs scientists and engineers, and that entrepreneurship can be an attractive career path for them.
Target audience: This programme is aimed at researchers, senior researchers, postdoctoral fellows and doctoral students at BIST centers (From the CRG max 4 candidates will be selected). The course is designed for groups of approximately 30-35 people to ensure optimal participation, learning and faculty-to-participant ratio.
Dates: 4th (from 15:30-17:30), 5, 6, 14 (from 9:00-18:30) and 15th October 2021 (from 9:00-14:00)
Programme: HERE
Location: ESADE Executive Education building, Av. Esplugues 92-96, Pedralbes, Barcelona. Nevertheless all sessions will have the option to be followed online.
Register HERE by 1st of September 2021
Registration fee (for selected participants): The course is free, however 50€ of deposit is mandatory and will be reimbursed upon completion of the course.
For more information contact: CRG_BusinessInnovation@crg.eu and training@crg.eu
---