The Technology & Business Development Process at CRG
Learn more about the Technology Transfer Process at CRG through our FAQs
Latest news
11 April 2023
Once again, we celebrate the CRG Entrepreneurship Week, a time to meet and discuss with innovators and the entrepreneurship community, who dream big and inspire others to bring their ideas to life while driving socio-economic growth and welfare.
Targeting students, researchers, alumni, mentors, start-ups, industry, investors and other innovation partners.
The sessions below are open to the CRG community only.
You can join the sessions by clicking on this link.
April 24, 2023
10:30 h
Evan Floden, Seqera Labs
"The Scientist's Journey"
 
---
April 25, 2023
12:00 h
Joan Perelló, Sanifit
"Meet the Entrepreneur"
---
April 27, 2023
09:30 h
Malcolm Bain, Across Legal SLP
"Software Protection"
---
April 27, 2023
14:00 h
Gabor Heltovics, NLC Ventures
"Meet the Venture Builder"
14 September 2022
14/09/202212:00473.10TBDO SessionsMalcolm BainAcross LegalLicensing research software: options and challenges.Host: Sanz Molinero, Ana IsabelAbstract:Malcolm is an English solicitor and Spanish abogado. He has worked as an Information Technology and Intellectual Property lawyer over the last 20 years, with a specialisation in technology licensing, open source software and content, technology transfer and privacy.
In 2006, together with his partner Manuel Martínez, he founded his own firm "id-law partners" as a boutique specialized in IP and ICT. In May 2018, both incorporated this firm into Across Legal. In addition to his professional activity advising entrepreneurs, private companies, public administrations and open source projects, Malcolm is a member of the Free Software Foundation Europe and ASTP, associate professor of law at the University of Barcelona, ¿¿mentor in Tecniospring Industry and other programs for entrepreneurs and frequent speaker at conferences and seminars in the field of ICTs and entrepreneurship in the digital world.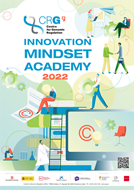 16 June 2022
INNOVATION MINDSET ACADEMY (IMA) 2022
The 1st edition of the Innovation Mindset Academy (IMA), a new training initiative put together by TBDO, CRG ISA and Training, took place in March 2022 within the framework of the European Training Network Chromdesign, coordinated by CRG's Group Leader Luciano Di Croce.
The IMA scheme was ideated to be highly interactive and activity-based to take PhD students through an entrepreneurial immersion experience while instilling an entrepreneurial mindset, helping students to develop their skills to convert lab-ideas into business ones.
IMA participants worked on their own business ideas for a week while engaging in discussions with entrepreneurs and scientists in business. The topics covered were intellectual property protection and disclosure, value creation, and demanded skill sets from researchers in a business environment.
The IMA 2022 stands as the optimal prelude of the next CRG BioBussines School Edition, to take place in 2023.
---