Speaker Series
The speaker series attracts top-tier participants to our research community to share their experiences and discuss relevant topics of interest to entrepreneurs. These speakers are chosen from a broad range of expertise. To date our program has invited private investors, company CEOs, professionals from the pharma and biotech sector and seasoned entrepreneurs. Informal receptions are organized after talks to encourage networking within our community.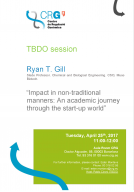 25 April 2017
25/04/201711:00R_473.10_AULATBDO SessionsRyan Timothy GillSlade Professor, Chemical and Biological Engineering. CSO, Muse Biotech"Impact in nontraditional manners: An academics journey through the startup world"Host: Cironi López, PabloAbstract:Abstract: Woud you rather change the world through a ground breaking scientific insight or through a new technology that changes the way people lived? A nature paper or a PCR machine? Creating 1000 jobs or educating 1000 students? These questions do not have to have mutually exclusive answers — in many centers of innovation faculty, leaders, and students are doing both, and doing them exceptionally well. In fact, in some cases it is expected that faculty will devote a certain amount of their to...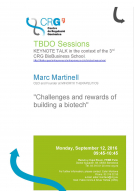 7 September 2016
12/09/2016 09:45 CHARLES DARWIN Keynote talk in the in the context of the 3rd CRG BioBusiness School."Challenges and rewards of building a biotech"Marc Martinell, CEO and Founder at Minoryx Therapeutics
Find it out next Friday, September 12 at 09h45 by joining the session.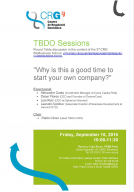 7 September 2016
16/09/201610:00RAMON Y CAJAL
Find it out next Friday, September 16 at 10h00 by joining a round-table discussion with some of the most relevant members of our regional, as well as international ecosystem.
Expert panel
Alexandre Casta (Investment Manager at Caixa Capital Risk)
Oscar Flores (CEO and Founder of GenomCore)
Luis Ruiz (CEO at Spherium Biomed)
Leandro Vetcher (Associate Director of Business Development at Harvard OTD)
Chair
Pablo Cironi (Head TBDO-CRG)
The round table is open to all the PRBB community, and it takes place in the context of the 3rd CRG BioBusiness School to be held at CRG from 12-16 September 2016. For more details please check the WebPage http://tbdo.crg.eu/entrepreneurs/entrepreneurs-...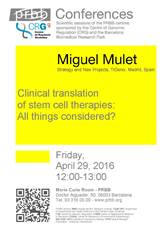 22 April 2016
Cell therapy in regenerative medicine from an industrial focus
On initiative of the TBDO, Dr. Miguel Mulet will provide an overview of cell therapy in regenerative medicine from an industrial focus and how this field illustrates particularly well, the challenges and risks of the trip from science to product during PRBB-CRG Session of Friday April 29th 2016 from 12:00-13:00. In this overview, he will touch various aspects:
Cell therapy as a pharmaceutical product.
How Mechanism of Action has been a moving target in parallel with product development.
The intellectual property challenge of protecting inventions involving cells.
Adapting biologics regulation to cell therapy.
The long path of clinical development.
Moving from a laboratory craft to industrial manufacturing.
Commercialization and Market Access.
Miguel Mulet is Director of Strategy and New Projects in TiGenix, which is a leading European cell therapy company. His primary role at TiGenix is focused on aligning the functions that drive the cell therapy pipeline in Crohn's Disease and Acute Myocardial Infarct. In addition, and besides business development activities to broaden the current pipeline, he is in charge of advancing the market readiness of the current platforms through implementation of new technologies and process improvement initiatives.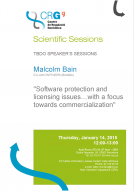 14 January 2016
14/01/201612:00473.10TBDO SessionsMalcolm BainID Law PartnersSoftware protection and licensing issues…with a focus towards commercializationHost: Cappadona, SalvatoreAbstract:Software protection and licensing issues …with a focus towards commercialization: Many outcomes produced by biomedical/genomic R+D today involve software and databases. This session focuses on the legal issues of ownership, protection and exploitation of software in this area, looking at both traditional "royalty bearing" licensing and free and open source licensing, and the provision of services "in the cloud" as opposed to on premise licensing. We also look at the use and protection of databases and their licensing. Bio: Malcolm Bain is an English solicitor and...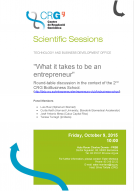 9 October 2015
09/10/201510:00CHARLES DARWINTBDO SessionsRound-table discussion in the context of the 2nd CRG BioBusiness School..What it takes to be an entrepreneurAbstract:"Start ups", "spin-offs", "innovation", "entrepreneurship"… In advanced economies, technology-based company creation is perceived as an important motor of regional economic development. Many of such companies arise from publically funded research institutions, promoted in many cases by researchers like you. But… do you have what it takes to be a successful entrepreneur? Find it out next Friday, October 9th at 10h00 by joining a round-table discussion with some of the most relevant members of our regional, as well as international ecosystem.
The round table is open to all the PRBB community, and it...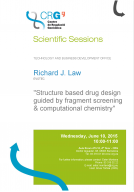 10 June 2015
10/06/201510:00R_473.10_AULATBDO SessionsRichard J LawEVOTEC"Structure based drug design guided by fragment screening & computational chemistry".Host: Tórtola Pérez, SilviaAbstract:Fragment based drug design has emerged as an effective alternative to high throughput screening for the identification of lead compounds in drug discovery in the past years. Screening of low molecular weight weak binders ("fragments"), and obtaining hits is a well understood process that can be achieved by many different assay techniques. Less well defined is how to proceed once a hit is obtained. Computational chemistry, and the application of...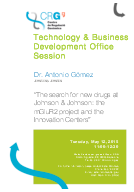 12 May 2015
12/05/201511:00MARIE CURIETBDO SessionsDr. Antonio GómezJohnson & Johnson"The search for new drugs at Johnson & Johnson: the mGluR2 project and the Innovation Centers"Abstract:Dr Antonio Gomez earned a PhD from the University of Salamanca in the field of Hemisynthesis of Natural Products in 1997. Joined Janssen-Cilag S.A. in Toledo in 1996, initially as a medicinal chemist. Then moved to Janssen Pharmaceutica in Belgium in 1999-2000 to work in the Department of Research Support. Back in Toledo he has held various positions as Project coordinator and scientific IP coordinator. Since 2012 he is in charge of external collaborations for the Toledo site. With the launch of the Innovation Center...
---